Vital Statistics
: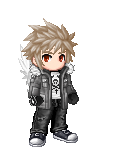 Name:
Coleridge Wyatt Lightwood
Age:
23
Gender:
Male
Height:
6 ft 3
Weight:
76 kg
Appearance:
Scruffy hair, usually wearing a jacket to keep warm and jeans. Keeps his appearance somewhat neat but doesn't really pay attention to his hair. Red eyes due to an albino gene in his bloodline. He didn't know how it happened but it did. Keeps himself fit and healthy by exercising.
Employment Qualities
: He is a kind teacher, eager and willing to help children, enjoys what he does. He was a B Average student and graduated University with high scores. Is firm and demanding, but has a healthy respect for the students.
Regularity:
Full time substitute teacher, will usually take over for teachers who take leave for a long period of time.
Position(s):
A teacher
Professionalism:
He is a very professional teacher, but likes to teach in a vary of different styles, most are fun and interactive so the kids don't get bored but still learn while doing it. Sometimes it doesn't turn out so well but he is always willing to try new stuff.
Relations:
He lives away from most of his relatives.
Sexuality:
Straight, he is a big flirt with women he likes, but doesn't push it if it is an unwanted action. He is deeply respectful to people.
Preferences:
He likes playful women. Not really one for looks he is more interested in somebody that can keep it fun and interesting. If he gets bored he doesn't see any reason to keep the relationship. Although taboo is a bit of a like for him.
Likes:
He likes reading, sports, cooking and especially teaching. Also enjoys a nice day at home with his two dogs.
Dislikes:
Really doesn't like being bossed around, an uncontrollable class, cats pissing on his house and bullies.
Back Story:
Had a bit of a rough home life so it was hard to get into a good school. Staying away from the bad crowd was even harder. He sometimes got caught up in the flow of things and made some bad decisions. But after he got his degree he hauled ass out of town and left his parents behind.
History:
He was born into a pretty bad home life. Usually dealing with a drunk father and home abuse. He loved school though and relished in learning new things. It was an odd characteristic and usually made him the target of bullies. Sometime after 4th grade he started to hang out with some bad people and made some petty theft crimes. Soon after though he stopped when one of the kids god booked into juvenile detention for stabbing somebody. He decided books and studying would get him out of a hell hole and into something better. Highshool was no better, kids were just as mean and scathing. Once he had gotten his degree he got out of town, leaving everybody behind and went to university. He studied hard, lived in a small busted up apartment until he graduated and slowly started living better. He is currently renovating a trashed up house he'd bought little over 6 months ago. Seriously broken down but it gives him something to do when he isn't working.